Michigan CU People Visit Kenya to Help Orphanage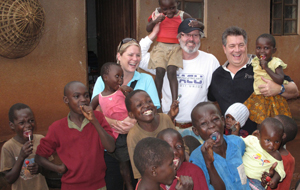 Children from the Busia Compassionate Centre orphanage in Kenya swarm their visitors from Michigan – Stephanie Klocinski, league rep for MCUL & Affiliates; Hank Hubbard, president/CEO of Communicating Arts CU, and Dean Trudeau, president/CEO of Public Service CU.
As CEO of Communicating Arts CU in the heart of Detroit, Hank Hubbard knows a bit about poverty. But the poverty he saw on a recent visit to Busia, Kenya, is on a different level than in this country.
Hubbard was there in November with a contingent of Michigan credit union volunteers on a project set up by the World Council of Credit Unions. Others on the trip from Michigan were Dean Trudeau, CEO of Public Service CU in Romulus and Stephanie Klocinski, an MCUL & Affiliates league representative.
The trio was in Kenya to do prep work on a new dormitory for the Busia Compassionate Centre, an orphanage for children whose parents have died from AIDS, which continues to plague the African continent. The orphanage is in Busia, Kenya – 280 miles northwest of Nairobi, close to the shores of Lake Victoria.
WOCCU has had several programs in Kenya, most recently chartering two credit unions, one of which is affiliated with the orphanage. The credit union will duplicate WOCCU's successful model in Mexico which maintains the personal service credit unions are known for worldwide while doing away with bricks and mortar.
The new credit union, which is being built up around the orphanage, is intended to replace informal "table banking" or "merry-go-round" arrangements that are typical in Kenya. In these unregulated banking cooperatives people will throw 1,000 shillings ($10) on the table and then the group of investors will decide to whom to lend money.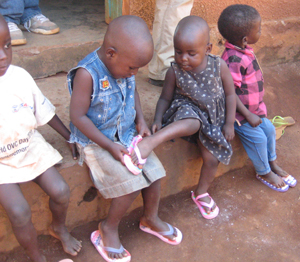 Children at the orphanage check out their new flip flops.
Hubbard said the credit unions will offer a more formalized approach to this concept. They expect to reach 100,000 members within two years.
"Access to financial services is important for everyone," Hubbard said.
Hubbard said he has been amazed by what so many Kenyans live without, such as shoes, clean water and other conveniences that Americans take for granted. Most toddlers don't wear pants because diapers are too expensive.
"It would be untenable for us but it's normal for them," he said.
But most of them have cellphones, which they use to pay for goods and services.
While Hubbard said the group was not able to do as much work as expected because of issues with a contractor, they were able to spend a lot of time with the children, who all seem fascinated by Westerners.
"All you have to do is get down to their level and they swarm you," Hubbard said.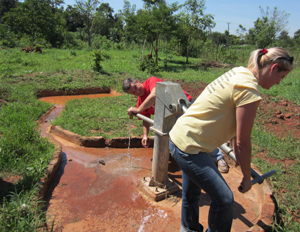 Dean Trudeau and Stephanie Klocinski pump water at the orphanage.
But despite the extreme poverty, Hubbard said everyone he met seemed very happy.
"The kids are so happy," Hubbard said. "They're fun to be around. They're thankful for everything."
Hubbard said he's accustomed to American-style poverty. He said he's visited homes here where people live in poverty, but their homes typically have heat, running water, electricity and television, things that are just dreams for most Kenyans.
The trip was recently featured in The Detroit Free Press. Click here to read the story.
Submissions to Monitor may be
emailed
. Bryan Laviolette is the editor of Monitor. Contact him
by email
or call (800) 262-6285, ext. 233. The newsletter of the Michigan Credit Union League is published Monday mornings or Tuesday mornings when Monday is a holiday. There is no Monitor the week after Christmas and the week after the Annual Convention and Exposition. The MCUL reserves the right to edit submissions for clarity and space.