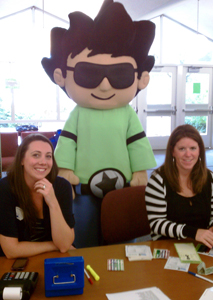 Co-op Services CU's mascot Rock Star Saver stands by Tiffany Grater, at left, and Stacie Klein, parents of Cleveland Elementary School students in Livonia. They volunteered their time to help students open savings accounts during this year's grand opening celebration of the school's parent-run branch.
… Co-op Services CU is crediting parent volunteers for the growth of the credit union's student-run credit union program. "It is thanks to our parent volunteers who support financial education for their children that we've been able to expand our student credit union program from four schools to nine during the past few years," said Jeremy Cybulski, Co-op Services youth and community development coordinator. Cleveland and Hayes elementary schools in Livonia are two of the credit union's parent-run branches. Cleveland's student credit union recently began its fourth year of operation. Both schools average 35 to 45 student savings deposits each week. According to Cybulski, if it weren't for parent volunteers Stacey Dogonski and Angelle Allen, Co-op Services would have been unable to launch the program at Cleveland. Their children have since moved on to upper elementary and middle schools, but they helped to recruit other parents to keep the program going. Cleveland parent Rebecca Hallisy is the school's new parent organizer who puts together the work schedule each week and recruits parent volunteers. Parent Karla Brothers, who is also a teacher, was responsible for starting the parent-run partnership at Hayes Elementary. She spoke to the school's PTA and helped recruit a core group of parents, organized by Virginia Peyton. Similar to Cleveland, many of the children of parent volunteers have moved on to higher grade levels – requiring a new batch of volunteers. Kelli Treglowne is the new parent organizer at Hayes. "We are still seeking volunteers for this program which gives our kids a great start to learning how to save and prepare for their future," Treglowne said. "Once parents realize the benefits their children receive, it's hard to say no." In addition to learning important financial concepts at an early age, students at each of Co-op Services' nine participating schools receive financial literacy materials and presentations throughout the year. "I am overwhelmed by the amount of time that parents, teachers, secretaries and principals have dedicated to our student credit unions," Cybulski added. "Without their support, we could not do this program."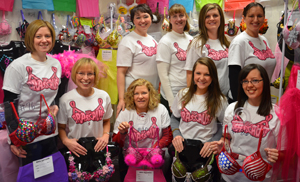 "BRAS FOR A CAUSE" volunteers from Iron Mountain Kingsford FCU show off their creations. Top row from left: Sonya Nelson, Lori Cox, Donna Tanguay and Susan Lucas. Bottom row from left: Angela Adam, Debbie Milligan, Lori Lejeune, Jessica Anderson and Marcy Bradke.
… Iron Mountain-Kingsford Community FCU helped sponsor, manage and organize the Fourth Annual "BRAS FOR A CAUSE" with three other local businesses. Ladies who visited Iron Mountain for the annual "Girls Night Out" were invited to put their talents to work and decorated bras that helped the local Dickinson Hospital Foundation with its Radiation Department project. Bra artists were then asked to drop off their creations at the credit union where about 100 bras were on display. Then on "Ladies Night Out" on Nov. 15, they were displayed at the Sol Blu Lounge in Iron Mountain for a final viewing and auction. All viewers were asked to pay a $2 donation at the door and then received a gift package, that included special gifts and as well as information about staying healthy and reducing your cancer risk. The fun event was a huge success that not only helped raise more than $5,000 for the Radiation Department Project but also helped raise awareness of breast cancer. More than 15 employees from IMKFCU took part.

... During the past three years, the University of Michigan CU and the Credit Union of Ohio have taken part in a "Money War" challenge to see who could raise the most money for charity. While their respective school football teams geared up for what is known as the greatest rivalry in college sports, UMCU and CUO prepared for battle off the field. For UMCU, the proceeds raised go to the Charles Woodson Clinical Research Fund at C.S. Mott Children's Hospital. The fund provides money for research to advance the treatment of illnesses that affect children such as cancer, congenital heart disease, sickle cell and kidney disorders, and developmental conditions such as autism. The Credit Union of Ohio's proceeds are donated to Nationwide Children's, the primary pediatric hospital in Columbus, Ohio. This year, UMCU regained the lead of 2-1 by raising $2,824, nearly $1,200 more than its total from last year, while the Credit Union of Ohio raised $1,603. The winner's trophy will make its way back to Ann Arbor, along with a photo of CUO's management team dressed in maize and blue. "This is an exciting opportunity to continue our partnership with the Credit Union of Ohio to raise money for our respective children's hospitals. The children at Mott's Children's Hospital are the real winner this year," said Jeff Schillag, UMCU's vice president of marketing and community relations. "Even though we didn't win this year, we're proud to be able to continue this fun partnership opportunity with University of Michigan Credit Union," said Jill Gerschutz of Credit Union of Ohio. "It's a great way to give back to the communities we serve and stay connected to our friends up north."

… Girls on the Run in Calhoun County has been awarded a $1,500 OMNI "Gives Back" Grant from OMNI Community CU. The program focuses on providing life skills to girls, grades 3-5, ranging from how to handle peer pressure to responsibility. Last year, 60% of the girls who participated did so on a scholarship. The grant will help to fund those scholarships. "The Girls on the Run program has been very successful in Calhoun County. Teaching our youths these vital life skills and coupling it with being active is of great importance. We are happy to provide money for scholarships so more girls may participate," OMNI CEO Ted Parsons said. "We are very excited to earn the support of OMNI Community Credit Union in our upcoming season," said Stacy Doubleday of Girls on the Run. "The grant money will be used toward scholarship monies to help give underprivileged school aged girls, grades 3-5, the opportunity to participate in our program."



… Michigan Catholic CU and First Catholic FCU are merging to form Alliance Catholic CU. Members of First Catholic FCU voted by an overwhelming majority on Oct. 15 to approve the merger of FCFCU and MCCU. Regulatory approval was obtained from the state of Michigan and the NCUA in September and final approval was received on Nov. 21. Alliance Catholic CU will make the merger official on Jan.1, 2013.

… In the holiday spirit of giving, Credit Union ONE is once again involved in community giving efforts for those needing assistance this year. Continuing the annual tradition, the credit union is working in conjunction with the United States Marine Corps and collecting toys for Toys for Tots. Unwrapped toys can be dropped off through Dec. 14 at any Credit Union ONE location. The credit union is also collecting canned goods through Dec. 20 that will be sent to Forgotten Harvest in the metro Detroit area, the Northwest Food Pantry in Grand Rapids and the Father Fred Foundation in Traverse City. Consider making a donation to one of these organizations and help make a difference in someone's life this season.


Drive Toys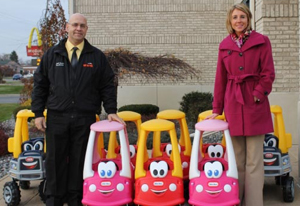 Jeff Jarvis, coordinator for the Bay County Toys for Tots program accepts nine Little Tyke's Cozy Coupe cars from Catholic FCU Vice President of Marketing Bethany Dutcher on behalf of the credit union.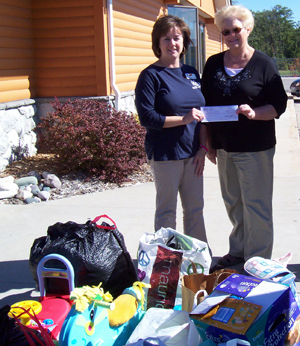 AAACU Lincoln Branch Supervisor Missy Cordes, left, presents a check for $395 and several bags of donated items to Ruth Merrick of My Brother's Hope.
… The Lincoln branch of Alpena Alcona Area CU was able to collect $395 and several donated items to give to My Brother's Hope in Alcona County. My Brother's Hope is an organization that provides assistance to families in need throughout the year. Clothing, personal care items, household products, and meals are available to less fortunate individuals in the community. It is a volunteer-based organization that relies on the support of the community and many organizations within. During the third quarter of 2012 the Lincoln Branch staff accepted monetary donations as well as clothing and household items. Staff organized many different fundraisers such as a bake sale, candy bar sales, and a windmill raffle. The staff also donated $2 on Friday to dress down in jeans.



… United FCU was recently ranked among the best savings accounts for teens in the nation for its Youth Savings Account by NerdWallet.com, a personal finance website which promotes financial literacy and consumer-friendly banking. Criteria for the top picks included low opening deposit requirements, high interest rates, and no monthly fees. "United Federal Credit Union strives to provide financial literacy to our Members and learning this lifelong lesson begins with our youth," UFCU President/CEO Gary Easterling said. "Offering our flexible savings account to our young members gets them headed in the right direction for success with their financial responsibility." The UFCU Youth Savings Account is designed for youth ages 0-21 to help them learn the value of savings. Features include no monthly fees, free use of the UFCU coin changer and online banking for balance inquiries. UFCU also offers a youth certificate of deposit, where, unlike conventional CDs, money can be added to any time.
Award from Community College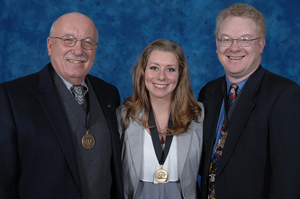 MemberFocus Community CU
was honored as Henry Ford Community College's Volunteer of the Year, and honored at the National Philanthropy Day Event in Detroit, on Nov. 14. From left are MemberFocus board Chairman Bill Harvey, Marketing Director Christine Clark and CEO Jon Elliott.
… Oakland County CU is supporting credit union employees along the hurricane-stricken East Coast with a $5,750 donation contributed by staff and the credit union board. All funds were sent to the CUAid, established by the National CU Foundation. CUAid provides a channel to collect donations to help credit union people with critical needs, longer-term recovery needs, operational needs and assistance for credit union members. "We understand, after food and shelter, money is really what these unfortunate people really need," OCCU President/CEO Allan McMorris said. "I'm proud that our board and staff have stepped up to help the efforts of CUAid. CUAid is a wonderful organization."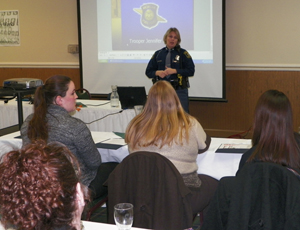 Michigan State Police Trooper Jennifer Pintar discusses identity theft warning signs.
… Northland Area FCU hosted a free community workshop, Identity Theft: Protecting Yourself in Today's World, in West Branch. Michigan State Police Trooper Jennifer Pintar warned the crowd about common tactics used by scammers, their lasting impact on unsuspecting victims, and steps to take when an identity has been compromised. Janelle Tambling, manager of Northland's West Branch office, spoke about reducing personal risk and had participants take an eye-opening vulnerability assessment test. "Unfortunately, there are criminals out there who prey on unsuspecting people," Tambling said. "They often target the elderly or young people just starting out, but identity theft can happen to anyone. I'm so glad we were able to offer this information to the community." When asked for her three favorite tips Tambling replied, "Never give personal information to an unknown caller; never put sensitive information in email and carefully check your credit report every four months at annualcreditreport.com." Northland provides free community workshops on topics such as safe borrowing and predatory lenders, and budgeting for beginners. For more information, call (800) 336-2328, ext. 274.

… Astera CU's Greenville branch created a little fun for WalMart SuperCenter shoppers as they walked the aisles on Black Friday. "We served a Black Friday breakfast at our branch and purchased gifts from about a dozen of the Walmart departments," Astera Retail Branch Specialist Jenny Bennet said. We placed Astera Stars throughout the store. When customers brought the stars back to the branch they received an Astera prize plus a gift from the WalMart department the star was found in."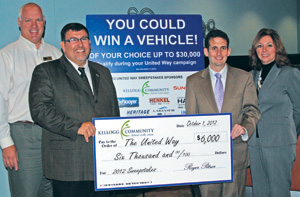 From left are Tim Kool, United Way of the Battle Creek and Kalamazoo Region board chairman; Mike Larson, president of the United Way of the Battle Creek and Kalamazoo Region; Michael Ogrin, CFO of Kellogg Community FCU and KCFCU CEO Tracy Miller, CEO.
… Kellogg Community FCU is the exclusive financial sponsor of the United Way of the Battle Creek and Kalamazoo Region's 2012 Sweepstakes in which one lucky winner will receive a vehicle of their choice with a value of up to $30,000. KCFCU is a proud supporter of United Way, a nonprofit organization committed to raising resources for families and agencies in need. KCFCU's goal of providing financial opportunity and lifelong value to members and the communities in which it serves directly coincide with UWBCKR's goals to advance the common good by creating opportunities for a better life for those in the same communities. "We, at KCFCU, recognize that the United Way invests a lot of resources into our communities, and in this time where so many people within the community are feeling economic hardship, their resources are needed now more than ever," KCFCU CEO Tracy Miller said. "Supporting local charities has always been a priority of KCFCU and we will continue to do so in any way we can." In addition to raising funds which all go back into the community, this exciting sweepstakes also raises awareness for the newly combined Battle Creek and Kalamazoo regions of the United Way. "When KCFCU was invited to participate, we felt it was a natural fit for us as we also serve both Battle Creek and Kalamazoo areas," stated KCFCU Senior Marketing Manager Susan Balbaugh. "Plus, our employees have always been strong donors to the United Way and we like to support charities our staff feels passionate about." KCFCU employees' personal pledges totaled $6,894, which the board of KCFCU agreed to match. After adding in the $6,000 Sweepstakes sponsorship, the total pledge amounts to a generous $19,788.

… Michigan Schools and Government CU was a sponsor of a fundraiser dinner and auction for Christian Leadership Academy at Zion Christian Church last month. The event was the most successful in the 17-year history of the school. More than 180 guests, including families and local business sponsors, gathered at the Troy Marriott for the school's annual "ThanksForGiving" event. "We'd like to thank all our donors and bidders for supporting this wonderful school in such a generous way," CLA Headmaster Robin Schmidt said. Besides MSGCU, local sponsors of the event included Asset Preservation Capital, CxT Group, Somerset Buick GMC, Henry Ford Health System and Faith Talk Radio AM 1500. Student performances were highlights of the evening. Two CLA students delivered oral presentations: Luke Antone, a third grader, recited Job 38 from the Bible and Samuel Montgomery, a senior, recited an adaptation of two speeches – Lyndon B. Johnson's "We Shall Overcome" and Martin Luther King Jr.'s "I've Been to the Mountaintop." Additionally, junior Joanna Flower provided piano music and the CLA Choir sang during the dinner portion of the program. Christian Leadership Academy, a Christian and Classical school, uses a method of education based on the Trivium. This method of learning, which emphasizes grammar, logic, and rhetoric, was also used in the education of our country's Founding Fathers as well as in the education of influential Christians such as Martin Luther and C.S. Lewis. The mission of Christian Leadership Academy is to teach children Biblical truths and classical academics from a Christian worldview so they may serve as bold and obedient ambassadors for Jesus Christ. To learn more about Christian Leadership Academy and the classical method of education, visit: www.cla-edu.org.

Helping Those Less Fortunate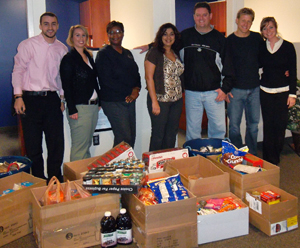 MemberFocus Community CU
had a food drive for the second year in a row. All donated food will be distributed by the Dearborn Fire Fighters Burn Drive to help hundreds of local families. From left are Abe Elkadri, Jenny Scott, Shanta Ward, Maha Soueid, all from the credit union and Steve Worden and Jon Drennon from the Dearborn Fire Department, and Christine Clark from the credit union.
… MSUFCU will soon add its 10th Mid-Michigan location. A full-service branch within the Sparrow Professional Building in Lansing is anticipated to open in early 2013. Along with six other financial institutions, a committee of Sparrow's management, union representatives and Sparrow Caregiver representatives selected MSUFCU and offered the credit union the opportunity to open a branch at the medical building. MSUFCU's President and CEO Patrick McPharlin said MSUFCU was honored to be selected. "MSUFCU already offers accounts and services to Sparrow Caregivers, and we are thrilled to be able to provide the added convenience of this new branch. We look forward to working with Sparrow to strengthen our partnership and provide resources to help our local community attain its goals and dreams," McPharlin said.

Submissions to Monitor may be
emailed
. Bryan Laviolette is the editor of Monitor. Contact him
by email
or call (800) 262-6285, ext. 233. The newsletter of the Michigan Credit Union League is published Monday mornings or Tuesday mornings when Monday is a holiday. There is no Monitor the week after Christmas and the week after the Annual Convention and Exposition. The MCUL reserves the right to edit submissions for clarity and space.