Crowdfunding Website Entrepreneurs Win MSUFCU startUP Challenge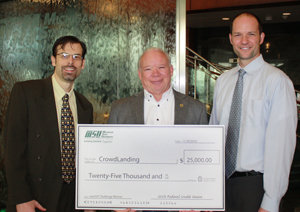 MSUFCU President and CEO Patrick McPharlin, center, congratulates Phil Threadgould, left, and Andy Bentz, co-founders of CrowdLanding for being awarded a $25,000 loan in the credit union's startUP Challenge.
MSUFCU announced the winning entrepreneurs of the MSUFCU startUP Challenge: Phil Threadgould and Andy Bentz, the founders of CrowdLanding, an information site and aggregating web application for the equity crowdfunding industry.
The startUP Challenge provided the opportunity for entrepreneurs to start their businesses in the tri-county area: Ingham, Clinton, and Eaton counties. As the winners of the startUP challenge, Threadgould and Bentz were awarded $25,000 to jump-start CrowdLanding.
Thirty-five local entrepreneurs applied for startUP Challenge loans. Entrants submitted applications, business plans and video pitches, with five finalists presenting their business ideas to the startUP Challenge selection committee comprised of Greater Lansing business professionals.
"We are ecstatic to have won the MSUFCU startUP Challenge," Threadgould said. "The $25,000 prize provides CrowdLanding with the opportunity to further develop our website and strengthen our business much more quickly than anticipated."
In addition to the startUP Challenge, MSUFCU also recently introduced the startUP Loan Fund. Entrepreneurs in the tri-county area may now apply for loans up to $15,000 to aid in the development of their businesses. MSUFCU's new loan fund has $250,000 to lend to local entrepreneurs.
"At MSUFCU, we are proud to provide resources to support small businesses and our local community," MSUFCU President and CEO Patrick McPharlin said. "We hope the startUP Challenge and MSUFCU's new startUP Loan Fund will attract more businesses to the area to help grow the local economy."

Submissions to Monitor may be
emailed
. Bryan Laviolette is the editor of Monitor. Contact him
by email
or call (800) 262-6285, ext. 233. The newsletter of the Michigan Credit Union League is published Monday mornings or Tuesday mornings when Monday is a holiday. There is no Monitor the week after Christmas and the week after the Annual Convention and Exposition. The MCUL reserves the right to edit submissions for clarity and space.