Michigan CU Leaders Deliver Strong MBL Message on Hill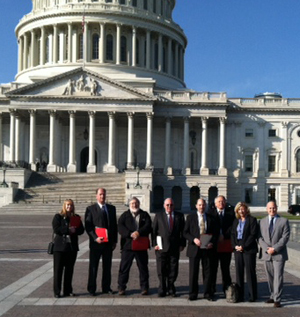 Members of the contingent from MCUL & Affiliates and Michigan credit unions take a break from meetings on Capitol Hill.
Last week, representatives from Michigan CUs, CUSOs and MCUL & Affiliates participated in CUNA's special Member Business Lending "Hike the Hill" in Washington.
Participants met with representatives from the offices of both of Michigan's U.S. senators and 11 of our U.S. representatives, urging continued support for and passage of legislation to raise the arbitrary cap on member business lending (MBL). Highlights included discussions with both of Michigan's members of the House Financial Services Committee, Reps. Gary Peters, D-Bloomfield Twp., and Bill Huizenga, R-Zeeland, who are cosponsors of H.R. 1418, the U.S. House's version of MBL legislation.
A vote is anticipated soon in the Senate on S. 2231, and participants were able to reinforce the importance of MBL legislation to Michigan's small business community. Several participants also had the opportunity to educate new Rep. David Curson, D-Belleville, on the issue. Rep. Curson was elected to serve the remainder of the term of former Rep. Thad McCotter, R-Livonia, which expires at the end of the year. Support from congressional leadership will be key in determining whether the legislation advances in the coming weeks, as the "fiscal cliff" and many other pressing issues are considered in the final days of the session.
"This extremely important effort by Michigan's credit union leaders and volunteers, combined with the efforts of our colleagues across the country, comes at a critical juncture for the MBL legislation," MCUL CEO David Adams said. "We are in better position now than we have ever been to see congressional action on raising the MBL cap. Lawmakers need to hear our stories and those of the businesses we serve, particularly as our opponents continue to distort the facts about credit unions."
As a whole, Michigan's delegation continues to be extremely supportive of efforts to raise the MBL cap, but several members have yet to co-sponsor or formally indicate their support. During the next few weeks, credit union leaders and supporters are urged to reach out to their congressional members, and thank them for their support if they have already declared it or urge them to support the legislation if they have not yet. Click here to send the MCUL's CapWiz action alert letter to your U.S. representative.
Submissions to Monitor may be
emailed
. Bryan Laviolette is the editor of Monitor. Contact him
by email
or call (800) 262-6285, ext. 233. The newsletter of the Michigan Credit Union League is published Monday mornings or Tuesday mornings when Monday is a holiday. There is no Monitor the week after Christmas and the week after the Annual Convention and Exposition. The MCUL reserves the right to edit submissions for clarity and space.