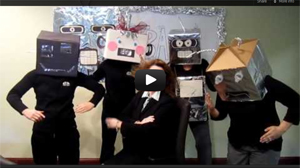 ... Two Michigan credit unions took home awards in Grand Rapids-based CU*Answers' 2012 contest for the best advertising ideas. Announced at its 2012 Leadership Conference, the four winners were chosen in CU*Answers 2012 contests for Best 30 Second Spot Idea, Best Video Idea, Best Jingle, and Best Complete Video. The winning contributors, all employees of credit unions on the CU*BASE® core processing platform, each won $1,500 for their credit union. The award for Best 30 Second Spot Idea was given to Brandt Becker at Community West CU in Kentwood for the video titled "We're Here." The corresponding video, produced in collaboration between CU*Answers and Fulvew Productions, is available to the public for use as a 30-second TV broadcast spot, with the opportunity for individual customization. Christie Dompierre of TBA CU in Traverse City took the award for the Best Jingle for "Robot Rap." The winner of Best Video Idea for the theme "Why I Work at a Credit Union" was Patty Sarne of San Antonio Citizens FCU San Antonio, Fla. Renee Maeder of Best Advantage CU in Brillion, Wis., received the award for Best Complete Video for "Why I Work at a Credit Union." http://ondemand.cuanswers.com/2012/06/21/best-complete-video-renee-maeder-best-advantage-credit-union/ In addition, Robin Ahart with TBA won an honorable mention for her video, "Winds of Change."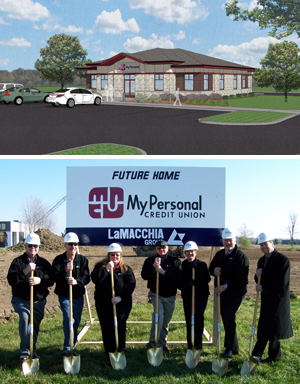 ABOVE: A rendering shows what My Personal CU's new Coopersville branch will look like. BELOW: Pictured are from left at the groundbreaking for My Personal CU are board Treasurer Dennis Brown,; Chairman Brian Borr, Secretary Roxanne Speck, Director Thomas Truszkowski, Coopersville Branch Manager Kelly Johnson, President Daniel Baines and LaMacchia Builders Vice President Dave Throndson. Not pictured are Vice Chairman Doug DuBois and Directors Mike Rose and Todd Reminga.
… Wyoming, Mich.-based My Personal CU hosted a groundbreaking ceremony Nov. 7 for its future office at 1147 W. Randall Street in Coopersville. The branch is scheduled to open in mid-2013. "We're looking forward to moving into a larger, more contemporary service facility," MPCU President Daniel Baines said. "It will allow us to better serve our current members, while offering a valuable financial services alternative for area residents." The new office will have drive-thru service lanes, a drive-thru ATM and Saturday hours. "Area residents will be able to get everything from car loans and mortgages to Free Checking, mobile banking, online bill pay, financial planning services and small business loans," Baines said.




… Lake Trust CU sponsored a Lake-to-Lake Food Drive on Nov. 16 to collect nonperishable food items at its 21 branch offices located throughout Michigan. The Lake-to-Lake Food Drive is an effort to help fill pantry shelves at local food banks and feed deserving families in Michigan this season. "Lake Trust Credit Union wants to make a difference in the many communities, from Lake-to-Lake, that we serve," President and CEO David Snodgrass said. "Lake Trust will be open to the public and our members on Nov. 16th, and we want to invite everyone to join our enthusiastic team and donate cans and non-perishable food items to help feed the hungry." Lake Trust has set a goal of collecting 1,000 pounds of food per branch location during the daylong food drive, equaling a total of 21,000 pounds. Food will be collected and distributed to a number of local charitable food distribution agencies around Michigan that are partnering with Lake Trust, including the Greater Lansing Food Bank, West Michigan Food Bank, Food Gatherers, Gleaners Community Food Bank of Southeastern Michigan, and Feeding America. "Our goal is to help bring awareness to what we can all do to make a difference, and to help feed as many people as we possibly can, by collecting food during this daylong, all-out effort," Snodgrass said.
One Lucky Winner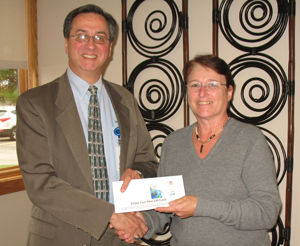 Gerber FCU President/CEO John Buckley awards credit union member Judy Wallace with a $100 Visa Gift Card following a quarterly drawing of survey participants. Each quarter Gerber FCU awards a $100 Visa Gift Card to a member who completes a short online survey. Tell us how we can better serve you at www.PR.YouAreGerberFCU.com and you may be the next lucky winner.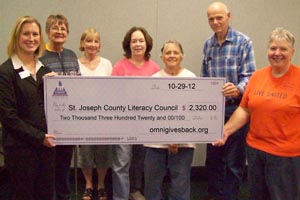 From left are Kristal Jourdan of OMNI Community CU and Rebecca Lilly, Joan Bracey, Liz Polasek, Barb Redford, Gene VanDeraa and Jane Brooks of the St. Joseph Literacy Council.
… OMNI Community CU has awarded the St. Joseph Literacy Council a $2,320 OMNI "Gives Back" Grant. The funds will help expand its program that provides free volunteer tutors to any adult living in St. Joseph County. It will also go toward building a new website and other channels that will bring awareness to this service for those living in the area. "The St. Joseph County Literacy Council greatly appreciates the generosity of the OMNI "Gives Back" Grant," said Rebecca Lilly of the St. Joseph County Literacy Council. "With this $2,320 grant, we will be able to purchase more Laubach and Challenger tutoring books for our students. These are one time use workbooks for our students, and they get utilized very quickly. Each student set costs nearly $11 so the cost adds up. We have more than doubled our number of students being tutored since late summer." OMNI CEO Ted Parsons said: "We are pleased to lend a hand to the St. Joseph Literacy Council. What a great program."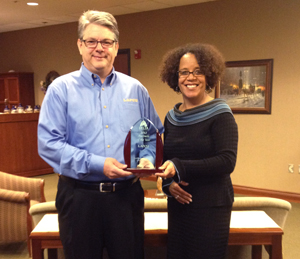 LAFCU's Business of the Year award is proudly displayed by LAFCU's Patrick Spyke, senior vice president-marketing, and Kelli Ellsworth Etchison, vice president-community and business development.
… Officials at Delta Twp. named LAFCU Business of the Year at a recent community awards event. LAFCU was praised for how its employees constantly give back to the community through its volunteer leadership to organizations and committees throughout the Tri-County Area. "LAFCU was selected not only for the service they provide the citizens of Delta Township but for their role in making the community a better place to live," said Sheri Jones, news anchor at WLNS and emcee of the event. "LAFCU is not only a great credit union, it's a great community partner." Jones cited the many community events in which LAFCU employees participate. She also told of LAFCU's efforts to inspire an educated community and their many programs in support of that mission. "We're very proud to accept this award on behalf of our employees and volunteers," said Patrick Spyke, senior vice president of marketing at LAFCU. "When you think of all the large corporations that are headquartered in Delta Township, it truly puts into perspective what an honor it is to be named Business of the Year." LAFCU has six locations in the Tri-County Area, with the main office in Delta Township. LAFCU has been doing business in the area for 75 years, and its employees volunteer with many local organizations, including Big Brothers Big Sisters, the Greater Lansing Food Bank and the United Way. LAFCU has also been a sponsor of the Delta fireworks display since 2005. The awards event at the Lexington Lansing Hotel, was in celebration of Delta Township's 50th anniversary. LAFCU supports nearly 100 Greater Lansing-area community initiatives annually.

… American 1 CU's Resource Center, which consists of human resources, information technology, training, and accounting, had a food drive in conjunction with local Boy Scout Troop 134. American 1's Resource Center collected more than 200 canned goods, bringing the total collected with the Boy Scouts to over 1,700 items. "With a small group of people we were able to make a huge difference," said Danna Woolsey, staff trainer at American 1 CU. "The food brought in will be used to make over 40 baskets of food for local families in need for the upcoming Thanksgiving holiday."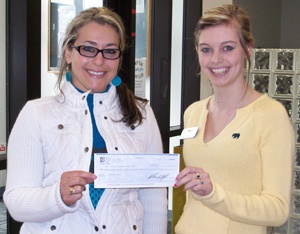 Stephanie Kirby, left, of AAACU presents a check for $225 and donated items to Shirley Diemond of Shelter Inc.
… Through the hard work of its employees and the generosity of its membership, Alpena Alcona Area CU was able to raise $225 for Shelter Inc. Shelter Inc. is a private, nonprofit agency providing safe shelter and supportive services to victims of domestic violence and sexual assault since 1978. Its mission is to end personal violence in its communities through advocacy, education, community collaboration and systems change. Shelter Inc. provides a vast array of services, free of charge, to assist those whose lives have been affected by domestic violence and sexual assault, including emergency shelter, counseling and 24-hour crisis intervention. They also offer many additional services including long-term housing, information and referrals and legal advocacy. Shelter Inc.'s 24-Hour toll-free crisis line is (800) 396-9129. To raise the money the Tawas Branch of AAACU had a bike raffle and accepted donations for individuals at the shelter. Candy bars were sold at teller windows and staff could donate $2 on Fridays to dress down in jeans and sneakers.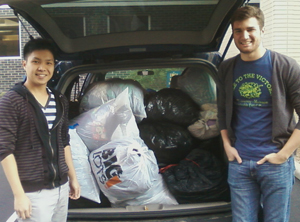 Kevin Li, left, and Patrick Sier of U of M's Detroit Partnership accept a donation from University of Michigan CU.
… In collaboration with the University of Michigan's Detroit Partnership, University of Michigan CU helped to make a difference in the lives of many Michigan residents this holiday season. UMCU employees donated 32 bags and one box full of clothing to the Detroit Partnership at U of M during the organization's clothing drive this past week. The donations will be distributed to residents of the organization's partner neighborhoods in the city of Detroit. Representatives from the organization were surprised by the amount of clothing they received and were sincerely thankful for the support shown by UMCU.


… In its continuing effort to support educators in the community, Michigan Schools and Government CU announced that it will award 52 classroom grants, totaling more than $36,000, to fund innovative classroom projects through its popular Classroom Cash Grant program. Local teachers submitted applications for funding for their innovative classroom projects. Approved projects moved on to a final public voting stage, which gathered nearly 28,000 votes through the classroomcash.org microsite and was shared virally with almost 80,000 online users from more than 20 countries. "As a credit union that serves educators, we strongly believe in the power of education, and we are constantly in awe of the dedication, creativity and passion our teachers bring to their classrooms," MSGCU President and CEO Peter Gates said. "With funding for classrooms being cut across the state, we understand that it becomes difficult to provide out-of-the-box learning experiences for students. That's why it is our honor to assist these devoted teachers with their educational goals as they continue to enrich our students both in and out of the classroom."

… CASE CU is announced that it has been selected as one of The Detroit Free Press Top Workplaces. The Top Workplaces are determined based solely on employee feedback. The survey is conducted by WorkplaceDynamics, a leading research firm on organizational health and employee engagement. WorkplaceDynamics conducts regional Top Workplaces programs with more than 30 major publishing partners and recognizes a National list of Top Workplaces. Companies are measured on several qualities such as company leadership, career opportunities, workplace flexibility, compensation and benefits. "At CASE Credit Union we strive to give all of our staff the opportunity to grow professionally, personally and financially," CASE President and CEO Jeffrey Benson said. "We are constantly training our employees and we promote from within wherever possible. We are delighted that our employees enjoy working at CASE."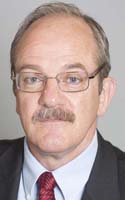 Kester
… Matthew Kester has been appointed to the position of internal communications specialist at United FCU in St. Joseph. In his new role, Kester will develop and execute long-term, strategic communications plans and activities to promote workforce coordination and continued mission alignment within the rapidly growing organization. Kester was previously a senior communications manager at The Timken Co., a top 500 bearing and component supplier in Canton, Ohio. There he managed marketing communications for the global automotive, heavy truck, construction, mining, agriculture, and locomotive groups. Kester's communications background includes various employee communications and media relations positions with General Motors Design Staff, Powertrain, and Manufacturing Engineering divisions in the Greater Detroit area. A native of Michigan City, Ind., Kester earned a bachelor's degree in business administration from William Tyndale College in Farmington Hills. He has been active in the Detroit and Cleveland chapters of the Public Relations Society of America.

Submissions to Monitor may be
emailed
. Bryan Laviolette is the editor of Monitor. Contact him
by email
or call (800) 262-6285, ext. 233. The newsletter of the Michigan Credit Union League is published Monday mornings or Tuesday mornings when Monday is a holiday. There is no Monitor the week after Christmas and the week after the Annual Convention and Exposition. The MCUL reserves the right to edit submissions for clarity and space.