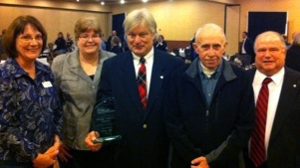 From left are Filer CU CEO Patty Preuss; Operations Manager Deneen Roskoski, FCU board members Gregg King and Charles Cloutier and Branch Manager Richard Veine.
… Filer CU was named Manistee Area Chamber of Commerce Business of the Year 2012. The award, Filer's second nomination, is presented to the business that has most helped improve the quality of life in the county. Having served the community for more than 60 years, Filer has been active in supporting chamber events, including Festival of Trees and the Business Expo along with Toys for Tots, the local animal shelter, area schools, downtown development events, American Cancer Society, Big Brothers/Big Sisters as well as a sponsor for Tight Lines for Troops and the Veteran's Park renovation project.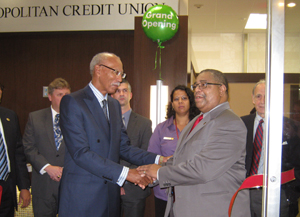 Detroit Mayor Dave Bing congratulates Al Patrick, chairman of the board of Detroit Metropolitan CU, on the credit union's new branch located in the Coleman A. Young Municipal Center.
... Detroit Metropolitan CU is celebrating the opening of its new, full-service branch in downtown Detroit, located at 2 Woodward Ave., on the first floor, Suite 118 of the Coleman A. Young Municipal Center. The new branch offers a convenient location for many conducting business in the city of Detroit, and will feature a walk-up ATM. The branch lobby will initially be open from 7:30 a.m. to 4:45 p.m. Monday through Friday. "The new branch location and added service reaffirms DMCU's commitment to improving lives and strengthening communities by providing financial services to the Detroit metropolitan community," DMCU CEO Kathie Trembath said. "Our mission at Detroit Metropolitan Credit Union is to provide friendly financial services in a professional atmosphere. In our new CAYMC branch, not only will we support that mission but our new branch allows us to provide a more personal atmosphere to conduct your financial transactions," Branch Manager Jill Kyles said.

… Public Service CU celebrated International CU Day On Oct. 18 with posters, flyers, balloons and decorations. There was cider, donuts, fruits, appetizers and popcorn supplied by local businesses for everyone to enjoy. A local chiropractor, Dr. Shaft, came in to give mini massages to members. The Romulus Animal Shelter came in to help celebrate Membership Day. The shelter brought several dogs, puppies, kittens and cats that were available for adoption. Most of the animals found loving homes.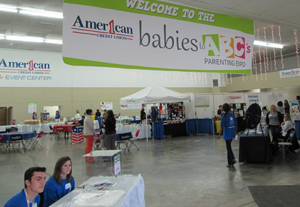 American 1 CU sponsored the American 1 Babies to ABC's Expo in Jackson.
… The 2012 American 1 Babies to ABC's Expo was Nov. 3 at the American 1 Event Center at the Jackson County Fairgrounds. This year there were more than 45 vendors with products and services ranging in topics from prenatal care to kindergarten. The Babies to ABC's Parenting Expo had everything a new parent or parent-to-be could need. The Babies to ABC's Parenting Expo also benefited the Great Start Collaborative of Jackson County. American 1 CU donated $350 to Great Start. Great Start and American 1 hosted a diaper drive; the goal was to "Fill a Bus!" Those who brought diapers were entered to win one of three prizes; $20 to the toy house, a $45 Foot Spa Package, or a $45 Hand Spa Package.

… Consumers CU is one of only nine Michigan credit unions partnering with Michigan Saves, a nonprofit organization which provides affordable financing options to homeowners of all income levels for energy-saving home improvements. This residential loan program is also unique in that credit unions, such as Consumers, are the only lenders. Julie Metty Bennett, financial manager for Michigan Saves, says she feels fortunate for having such a strong credit union culture in Michigan focused on communities and the drive to provide community benefits through both energy efficiency and renewable energy. "Credit unions are leading the way in energy efficiency financing," Bennett said. Also key to success is the Michigan Saves link with area contractors and installers. "Besides growing loans with existing members, contractors from the program serve as ambassadors, bringing new members to the credit union," Bennett said. Growing the renewable energy loan market not only benefits credit union portfolios, but more importantly, benefits the members and communities these credit unions serve. According to the Filene Institute in Madison, Wis., green loans are good for the financial health of homeowners, with energy savings increasing their disposable incomes. Just as fuel efficient cars save consumers money, energy-efficient homes save consumers money in lower utility bills – saving the homeowner up to 24% on energy bills, depending upon the upgrade, with an average savings of $2,200 per homeowner annually. Rhonda Royer, Consumers senior loan officer and program liaison, adds, "We've seen tremendous growth in energy-efficiency loans through the Michigan Saves Program. Members receive an excellent rate plus savings in utility bills ... along with an all-around more energy efficient home."
Golf Outing Helps Summer Therapy Program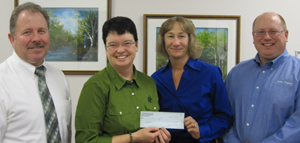 The Upper Peninsula Chapter presented the proceeds from its 2012 annual U.P. Chapter Golf Tournament to Bay Cliff Health Camp. Held this summer at the Terrace Bluff Golf Course in Gladstone, the event raises money each year for a U.P. charity. This was the fourth year the group has sponsored the charity golf outing. Presenting a check to Karen Schlicher, second from left, assistant director of Bay Cliff Health Camp, for $5,000 were committee chairs Richard Gatiss, at left, of Munising Community CU, Karen Dahl of Northern United FCU, and Erik Bessonen of Delta County CU. The funds will be used to support Bay Cliff's summer therapy program for children of the U.P. with physical disabilities and speech-language impairments.
… United Financial CU plans to make the holidays a little brighter for the CAN Council and CASA of Saginaw County. The credit union will collect donations and "Wish List" items at all six of its locations; and at the Saginaw and Bay City offices of the CAN Council. The credit union kicked off the first annual CASA Christmas on Nov. 13 and will collect donations until Dec. 14. For more information or to make an online donation, visit www.unitedfinancialcu.org. The CAN Council Great Lakes Bay Region is building communities where children are free from abuse and neglect. It sponsors several programs in the community including Child Abuse Prevention Education, Children's Advocacy Center, CASA of Saginaw County and Community Outreach and Public Awareness. CASA of Saginaw County (Court Appointed Special Advocates) is a group of specially trained volunteers who provide a powerful voice in the Saginaw County court system for children who have been removed from their home because of abuse or neglect. Every child has the right to a safe, permanent and caring home. Yet, according to the Saginaw County Department of Human Services, each year in Saginaw County more than 300 children live in foster care or with relatives because it is not safe to return home.

… For the seventh consecutive year, DFCU Financial is returning half its earnings through the Special Patronage Dividend – the largest dividend paid by any credit union in the country. DFCU will pay the estimated $21 million dividend to members on Jan. 4, 2013. Since 2006, DFCU Financial has given members more than $130 million. "The cash payout to members is our way to thank them for choosing DFCU Financial as their primary financial institution," DFCU President and CEO Mark Shobe said. "Our team works hard to operate an efficient, well-managed organization, which is the reason we can offer this unique benefit of membership." The payout to members is calculated based upon the member's total relationship with DFCU Financial – the greater the relationship, the larger the dividend. Qualifying members receive a one-half percent dividend on their average yearly loan and deposit balances, with each eligible member receiving at least $50. This includes all savings accounts and loan balances.
Submissions to Monitor may be
emailed
. Bryan Laviolette is the editor of Monitor. Contact him
by email
or call (800) 262-6285, ext. 233. The newsletter of the Michigan Credit Union League is published Monday mornings or Tuesday mornings when Monday is a holiday. There is no Monitor the week after Christmas and the week after the Annual Convention and Exposition. The MCUL reserves the right to edit submissions for clarity and space.