Sell MCULAF Lapel Pins in 2013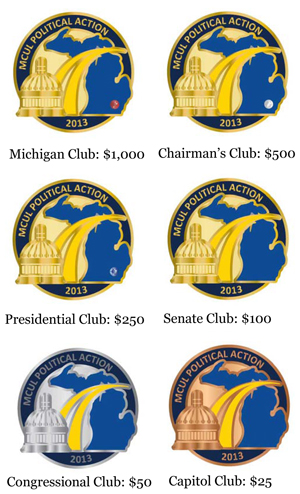 Every year, credit unions of all sizes raise more than $90,000 for MCULAF, our state PAC, by selling lapel pins. Credit union employees wear these pins with pride, knowing they are doing their part to ensure credit unions have a strong voice at our state Capitol in Lansing. The MCUL is looking to make 2013 our strongest year yet, encouraging all credit unions to utilize payroll deduction for next year's campaign.

MCULAF had a strong fundraising year in 2012. The Lapel Pin Program is the cornerstone of state PAC fundraising, and accounts for 54 percent of all money raised for MCULAF so far in 2012. With six weeks remaining, 109 credit unions have raised nearly $100,000 in 2012, surpassing our previous-year fundraising total.

With the lapel pin program, you're not only making a contribution, you're making an investment in the future strength of the credit union industry. The MCULAF lapel pin campaign is easy to administer and with payroll deduction, participants can spread their contributions over 12 months. To see the new 2013 pin design and download next year's contribution forms, please visit the lapel pin website by clicking here. To schedule a MCULAF lapel pin presentation for your staff, contact Kieran Marion Kieran.Marion@mcul.org or Jordan Kingdon Jordan.Kingdon@mcul.org.
Submissions to Monitor may be
emailed
. Bryan Laviolette is the editor of Monitor. Contact him
by email
or call (800) 262-6285, ext. 233. The newsletter of the Michigan Credit Union League is published Monday mornings or Tuesday mornings when Monday is a holiday. There is no Monitor the week after Christmas and the week after the Annual Convention and Exposition. The MCUL reserves the right to edit submissions for clarity and space.