Metro Detroit Consumers Flock to Michigan Money Summit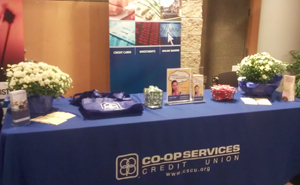 Co-op Services CU was one of the credit unions that had a booth at the WWJ Newsradio 950 Michigan Money Summit.
Hundreds of consumers looking for financial advice stopped by the WWJ Newsradio 950 Michigan Money Summit on Oct. 6, which once again prominently featured Michigan credit unions.
CU Link was a presenting sponsor of the free event, which brought a panel of experts to Schoolcraft College for a morning of discussions, question and answer sessions, and the chance to tour the exhibit hall.
Panelists covered timely topics including the current state of Michigan's economy, housing trends, investing for success, planning for college and retirement, and how to make the best decision when faced with a buyout package. The round-table portion of the event was moderated by WWJ/Fox 2 business editor Murray Feldman.
Co-op Services CU had a table in the exhibit area where many people stopped to learn more about the credit union difference throughout the morning event.
Submissions to Monitor may be
emailed
. Bryan Laviolette is the editor of Monitor. Contact him
by email
or call (800) 262-6285, ext. 233. The newsletter of the Michigan Credit Union League is published Monday mornings or Tuesday mornings when Monday is a holiday. There is no Monitor the week after Christmas and the week after the Annual Convention and Exposition. The MCUL reserves the right to edit submissions for clarity and space.