CU Lunch Local to Hit Businesses, Media on Tuesday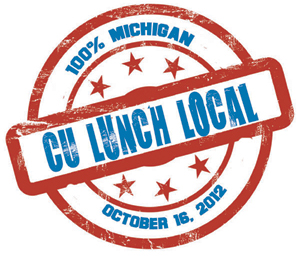 #culunchlocal
After weeks of planning, the big day is almost here. More than 55 credit unions across the state have formally committed to taking part in CU Lunch Local, the cash mob-style event aimed at showing support for small businesses.
On Tuesday, Oct. 16, these credit unions will pump tens of thousands of dollars back into the state's economy by making purposeful choices to buy local. Here are just a few of the many examples of participation in CU Lunch Local:
MCUL & Affiliates will be providing cider and donuts from local establishments to its employees in both the Lansing and Livonia offices.
Christian Financial CU CEO Patty Campbell will join Michigan Business Connection CEO Bill Beardsley for lunch at Detroit's historic Majestic Café, a landmark establishment which received a credit union business loan.
ELGA CU will support a local restaurant for lunch at each of its nine locations and its administrative offices.
Community Alliance CU will provide its staff with pizza from a local eatery.
Dort FCU plans to provide lunch for its 160 employees from six local, member-owned restaurants.
Marshall Community CU has made CU Lunch Local stickers for its employees to wear, and will also be bringing in lunch for its employees from a downtown restaurant.
And many, many more.
It's not too late to join the event. It just takes a few seconds to sign up on the CU Lunch Local Facebook event, or send an email with your plans to participate to CU Lunch Local coordinator Jessica Richardson-Isenegger at Jessica@in-fusiongroup.com.
On Tuesday, be sure to take photos, upload those to the event page, tag your local business, and use the hashtag #culunchlocal for any tweets you send so that the event will gain momentum and be tracked online. You can also email photos directly to Jessica at the address above.
Press releases have gone out to every media market across the state publicizing the event, but if you'd like to reach out to your own media contacts, a generic press release is available for your credit union to customize by clicking here.

Submissions to Monitor may be
emailed
. Bryan Laviolette is the editor of Monitor. Contact him
by email
or call (800) 262-6285, ext. 233. The newsletter of the Michigan Credit Union League is published Monday mornings or Tuesday mornings when Monday is a holiday. There is no Monitor the week after Christmas and the week after the Annual Convention and Exposition. The MCUL reserves the right to edit submissions for clarity and space.