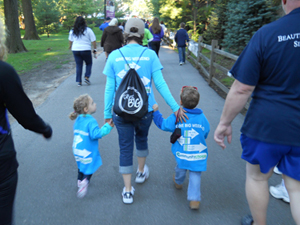 Candice Furlong, an employee at Community Choice CU's Milford branch, walks with her children at the Step Out: Walk to Stop Diabetes event. In total, the event raised more than $450,000 for the American Diabetes Association (ADA) and was supported by more than 3,000 participants.
… Determined to give back and to improve Michigan, Community Choice CU recently held its fourth annual Give Big Weekend. The weekend, dedicated to community service, featured more than 100 Community Choice team members at a variety of sites working tirelessly to give back to Southeast Michigan. "I am so grateful for the opportunity that the credit union provides to all of our team members to use our platform to help our local communities," said Autumn Tarquinio, Community Choice human resources manager. "I am proud to be part of an organization where every team member receives 24 hours of paid volunteer time annually to encourage community service. The credit union is so strongly committed to improving our local communities, that it puts its money behind its charitable focus." Tarquinio was the group leader for the credit union's Step Out: Walk to Stop Diabetes team. Tarquinio was joined on Sept. 15 at The Detroit Zoo by 179 credit union team members, family and friends. In total, the event raised more than $450,000 for the American Diabetes Association and was supported by more than 3,000 participants. In 2012, Community Choice employees worked 597 volunteer hours for the American Diabetes Association, prepared 200 care packages for Vista Maria, donated 412 pounds of food to Gleaners Food Bank and $6,179 to Kensington Metropark and collected 400 items for the Earthworks Urban Farm. "Give Big Weekend is all about uniting as one to support charitable causes," President and CEO Robert Bava said. "When team members at Community Choice engage with our local communities, we know the sum of what we can achieve is far greater than what we can achieve as individuals. I'm proud of our team members for their dedication and willingness to Give Big to the communities that we serve." While the credit union supported Southeast Michigan by participating in a variety of charitable projects over Give Big Weekend, the credit union's focus is to enrich local communities throughout the entire year. That's why Community Choice introduced its volunteer reimbursement program in 2005 and continues to see the benefits of offering the program. "Team members are excited when they learn they have the backing of the credit union to make a difference in local communities," said Jennifer Dickey, vice president of human resources. "When you tell them (team members) that we are also going to pay them for their community service, a giant smile usually cracks across their face. It's a wonderful program and team members' love the idea of getting rewarded for doing good."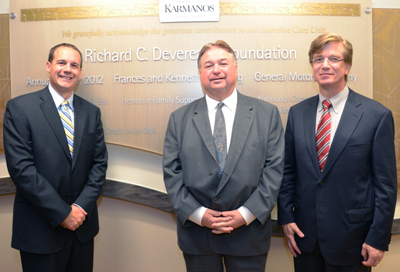 Gary Moody, left, president/CEO of Credit Union ONE; John Kozich, executive director of community relations for Credit Union ONE, and Dr. Gerold Bepler, president & CEO of Karmanos Cancer Institute take a moment at the dedication of the Karmanos Cancer Institute Intensive Care Unit.
… The credit union industry motto is "people helping people" and when it comes to the partnership between Credit Union ONE and the Karmanos Cancer Institute, this is a philosophy in action. Credit Union ONE has had a long-standing partnership with KCI over the years. When KCI decided to establish an intensive care unit at the hospital, the credit union stepped up to help fund it. Credit Union ONE has contributed approximately $54,000 over the past year, comprised of an annual corporate giving pledge and membership fees contributed from the common bond. "Last week, I was truly humbled to be part of an event to celebrate the opening of a new intensive care unit at the Karmanos Cancer Institute," said Gary Moody, president/CEO of Credit Union ONE. "We are among a small group of corporations and foundations whose names are on a plaque honoring donors whose contributions were used to pay for this critical care area. Having an ICU nurse who cares for post-operation cancer patients say 'thank you' for providing the opportunity to better care for her patients puts many things in perspective. The relatively small amount that the credit union contributes to KCI adds up and touches lives every day in a positive manner that cannot be put into words." Karmanos opened the ICU on Sept. 24.. The 8,035-square-foot ICU includes six rooms, each designed with state-of-the-art equipment to serve the unique needs of cancer patients in need of critical care.

... In light of the recent news that one of the country's largest banks plans to speed up its layoff plans by cutting 16,000 jobs by the end of the year, Michigan Schools and Government CU announced that not only has the organization hired and trained nearly 100 new employees this year alone, but the local credit union is also continuing to hire. "In a time of layoffs and cutbacks, it is heartwarming to be a part of Michigan Schools and Government Credit Union, knowing that our growth directly helps our state, our neighbors and better serves our members," said Mike Zalewski, MSGCU vice president of human resources. MSGCU hiring is up 29 percent this year and the credit union has created 66 new positions to help better serve its members. Much of the credit union's growth stemmed from the opening of three branches this year in Chesterfield Twp., Warren and Royal Oak. In terms of asset size, MSGCU is also one of the 10 largest credit unions in the state and is ranked in the top two percent nationally among financial institutions. "Our credit union plays a central role in our community and that means doing everything we can to support the families and businesses we serve, including hiring locally and creating jobs," MSGCU President and CEO Pete Gates said.

… Consumers CU and the K-Wings hockey team in Kalamazoo have entered into a unique sponsorship, giving members many benefits, including: special ticket pricing; sponsorship of Education Day and Family Hockey Day in the Zoo; as well as offering Consumers Dollar Dog members (ages 2-12) the chance to participate in each home game's Save of the Game. Consumers members will enjoy discount ticket pricing for every home game during the 2012-13 season – two adult tickets for just $25 or a family four-pack for $43. There will also be an opening weekend special (Oct. 19-20) for members only – just $10 per individual ticket (or $15 for the two nights). Members simply need to present their debit card or other proof of membership at the K-Wings ticket office to receive their discount. Consumers will also be the exclusive sponsor of the K-Wing's mascot, Slappy, a beloved and valuable commodity, who will sport the Consumers logo at every home game and all community events. Additionally, Consumers will cosponsor the K-Wings Education Day, where kids from all across southwest Michigan attend a special school-day game; and, Family Hockey Day in the Zoo, which is a part of all Sunday home games and offers family-oriented activities. Consumers will also have a special presence at each home hockey game with Save of the Game. For every save the K-Wings goalie makes, a Consumers Dollar Dog member will receive $1 deposited into their Dollar Dog account (which can average 20 to 30 saves per game). A Save of the Game participant will be selected for each home game. The Saver of the Game will receive: four free game tickets – "on the glass," the chance to go out on the ice prior to face-off and $1 for every save – deposited into their Consumers Dollar Dog Account. Parents or legal guardians can enter their child for Save of the Game via the Consumers CU Facebook page.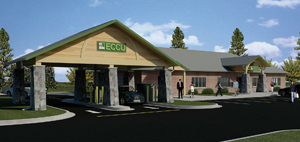 This rendering illustrates what the Paw Paw branch will look like when construction is completed.
… Recently Educational Community CU's Board of Directors and staff in addition to members of the Paw Paw Chamber of Commerce gathered to celebrate the beginning of construction on the ECCU Paw Paw, Michigan branch expansion. The final result of revamping the office at 315 E. Saint Joseph St. will nearly triple the current space to more than 2,400 square feet. "This groundbreaking ceremony marks an exciting milestone," ECCU President and CEO Charles Cornelius said. "With the support of our members and the Paw Paw community, we've seen great growth in this area and are happy to meet the demand for a new and improved space to allow for even greater service to our valued members." Not only will the new office allow ECCU staff more opportunities to provide in-depth service to members, it will also feature a drive-thru and a 24-hour drive up ATM. ECCU collaborated with Level 5, a consulting and facilities development firm headquartered in Atlanta that specializes in and works exclusively with financial institutions across the United States. Construction is being subcontracted locally to help fuel the local economy. Together they have developed a plan for improvements that will help the community and ECCU members feel even more at home when using the Paw Paw branch. ECCU Chairman of the Board Dave Aubry said: "We are looking forward to offering the community a new branch in response to the phenomenal growth that we've experienced at the Paw Paw office. We appreciate the local community and are proud that they are an integral part of the ECCU family."

… Supporting a vision that is near and dear to the hearts of many of its team members, University of Michigan CU employees raised $11,427 for Relay for Life of Ann Arbor in just three months. From the end of May through Aug. 31, UMCU employees had a series of fundraising events including: selling raffle tickets for luxury gift baskets, "Jeans Fridays," bake sales, making and selling homemade scented candles, and offering "feet" for sale in each of its seven branch offices. "Employees present great ideas and we just run with them, literally," UMCU Relay team captain Jennifer Kelley said. UMCU employees have shown their support and dedication to this very worthy cause by living up to the credit union motto of "people helping people." The team from UMCU has been participating in Relay for Life since 2001. UMCU lost a member of its team almost two years ago to cancer. Many of the employees participate in Relay for Life in memory of their coworker and friend Nancy Marcum.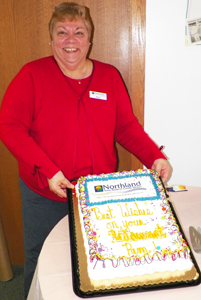 Northland Area FCU celebrated the retirement of Pam Pietrzyk at a recent party.
… Pamela Pietrzyk, assistant branch coordinator for Northland Area FCU, recently announced her retirement. "I love our members and everyone I have worked with through the years. I'll miss them all," Pietrzyk said at her retirement luncheon hosted by Northland. Friends and co-workers came from several counties to congratulate Pietrzyk and offer her best wishes. She has been a dedicated employee of Northland for nearly 20 years, beginning her career in 1993 as a part-time member services representative. A series of promotions led her to serve as the assistant branch coordinator since 2008. Pietrzyk enjoys volunteering in her community. Her favorite charities include Disabled Veterans and the Grayling Animal Shelter. "We'll be spending the winter in Fort Myers, Florida. We are going to be called snow birds," said Pietrzyk with a big smile when asked how she would spend her retirement.




… CU Rx, a credit union risk-management and compliance-services CUSO headquartered in Jackson, announced the launch of its first "Regulatory News and Updates" archive. The new archive houses relevant 2012 regulatory and compliance information and is available free to visitors to CU Rx's website. "We were already sharing regulatory news and updates with clients through our quarterly CU Rx 'Mitigator' E-newsletter," CU Rx COO Chrissy Siders said. "However, we needed an inexpensive but efficient method to capture and update the constant influx of important regulatory and compliance news. Since I frequently search a number of online industry archives, it became apparent that CU Rx could also create an archive that would provide any client or credit union with a valuable online reference tool. Now we can provide this critically important information to anyone on a weekly basis. There's no login required and it's free to anyone that simply visits CU Rx's website. It's our CUSO's way of giving back to the industry, in the 'people before profits' credit union spirit." Anyone responsible for credit union risk management or who is interested in regulatory news and compliance updates can access the new archive at or cu-rx.com/news-archive.
… Marshall Community CU recently donated more than $1,500 to seven area schools. Each Marshall Elementary School (Walters, Gordon and Hughes), Marshall Middle School, Marshall Academy, Mar Lee School and Wattles Park Elementary School received donations to their parent councils from MCCU as a thank you for participating in their CU In School program. Funds for the donation were raised by MCCU staff members. Employees were encouraged to "dress down" on Friday's by wearing blue jeans and a CU In School T-shirt. Each Friday, participating employees donated $3. Funds were collected throughout the 2011-12 school year and were given to the participating schools at their first PCO/PTO meetings. "Hughes Elementary PCO has thanked the entire MCCU staff for their donation," said Holly Irish, Hughes Elementary PCO co-president. "We will be putting the money towards the teachers' yearly supply budget for learning tools, books, etc. for their classrooms. MCCU and CU In School do wonderful things for the school systems in the area." MCCU's CU In School program recently began its 11th year of partnership with area schools. The program began at Sherman Elementary (2001). MCCU is excited to add Marshall High School to its list of participating schools. The MHS student-run branch will have its Grand Opening at the high school on Friday, Oct. 12.

… TLC Community CU is celebrating International Credit Union Week, Oct. 15-19, with free document shredding at any of its five locations. On Tuesday, Oct. 16, TLC is offering a FREE "Identity Theft" Seminar presented by Detective Gary Ward, Lenawee County Sheriff's Department. You will learn what you can do to help protect your identity. Go to www.tlccu.org for details and to register. On International Credit Union Day, Thursday, Oct. 18, donut holes and beverages will be offered for free in the branches.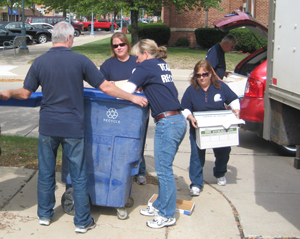 Rivers Edge Community CU team members help shred documents during the credit union's free shred day at the Allen Park Farm Market.
… Rivers Edge Community CU had a free shred day for the community in conjunction with the Allen Park Farm Market on Sept. 21. Team RECCU assisted in shredding 3,800 pounds of documents. In addition, members and residents donated 378 pounds of nonperishable food items and $76 in cash which was given to the Fish and Loaves Food Pantry.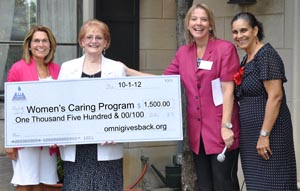 OMNI Community CU presents the Women's Caring Program with a $1,500 OMNI "Gives Back" Grant.
… OMNI Community CU has awarded the Women's Caring Program a $1,500 OMNI "Gives Back" Grant. The grant will be used to help fund the yearly tuition for daycare for low income families in Battle Creek and Kalamazoo. "Daycare can be an expense that puts a strain on an already tight budget," OMNI CEO Ted Parsons said. "By having some tuition funded from the Women's Caring Program, low-income families are still able to send their children to daycare and continue to work.




… Approximately 50 people turned out at the Grand Rapids Credit Union ONE Branch on a recent Saturday to shred more than 3,000 pounds of confidential personal and business documents, protecting themselves from identity theft and fraud. Important information, such as social security numbers, addresses, account information, financial records or personal data, can be stolen and used to open lines of credit, use existing credit cards or to falsify personal information. Shredding documents that contain private information can protect individuals and businesses from fraudulent use of confidential data. According to Sharon Blower, Credit Union ONE Grand Rapids branch manager, "Our members were very appreciative of the opportunity to rid themselves of accumulating paperwork and Credit Union ONE was pleased to be able to offer this service to the Community." John Kozich, executive director of community relations for Credit Union ONE, coordinated the three-hour event, working closely with Rapid Shred, which donated its time and equipment to provide secure onsite shredding services. This event is just one of several that Credit Union ONE has provided to their local communities during the year. After the event, the shredded paper waste was taken away for recycling into paper towels.

… More than 90 team members represented Oakland County CU and raised more than $14,000 for the PurpleStride Walk at the Detroit Zoo in late September. Organized by the Pancreatic Cancer Action Network, all proceeds go to scientists researching an early detection system for the deadly disease. OCCU's staff raised the money with a bowling fundraiser, special internal contests, special casual days, and a variety of individual efforts. "Team OCCU" was the second largest group at the walk and was also one of the top donors. More than $250,000 was raised for PanCAN. "This event has become our signature event and I'm always proud of how the team from the credit union truly rallies around such an important cause," OCCU President/CEO Allan McMorris said. A recent report said pancreatic cancer will likely become the second-most common cancer by 2015. "This is the most we have contributed to the PurpleStride and the timing appears to be ideal," McMorris added. "The staff embraces the cause throughout the entire year. It's quite gratifying to know we're making a difference."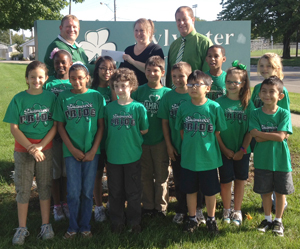 Honor CU is sponsoring Shamrock Pride T-shirts for students in Berrien Springs Public Schools.
… Honor CU is sponsoring Shamrock Pride T-shirts at Berrien Springs Public Schools. The front of the shirt sports the words Shamrock Pride and the back says "This is Shamrock Country" to help the students build school spirit. "We are glad to help the kids show off their school spirit and pride in their community and humbled to be asked by the schools to participate," Honor Credit Union CEO Scott McFarland said. "Our local schools continue to be the cornerstone of the communities we serve and we are proud to serve them." Kids in all grades are encouraged to wear their Shamrock Pride shirts to school every Friday. "It's great to see all of the kids in their green shirts and proud to be a part of their school in Berrien Springs," Branch Manager Kellie Eldridge said. This is the third year that Honor has partnered with the schools to provide shirts to all students in K-8 students.

… Michigan Schools and Government CU will open its third new branch this year in Royal Oak on Tuesday, Oct. 9, at 31805 Woodward Ave. between 13 and 14 Mile roads. "We are incredibly excited to open our Royal Oak branch," MSGCU President and CEO Peter Gates said. "Our new location is right in the heart of Woodward Avenue and southeastern Oakland County and we are proud to be able to serve our members better than ever before." The new Royal Oak office features drive-thru member service, Internet kiosk for member usage, coffee bar, and drive-up 24-hour access ATM. The office, similar to all other MSGCU offices, features longer weekday and Saturday hours.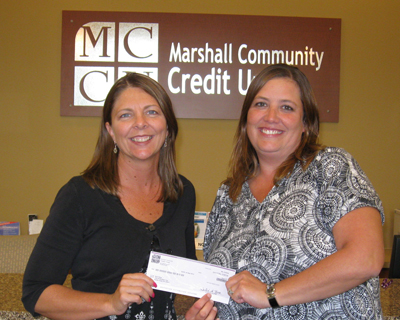 Jennifer Fopma, left, SAFE Place executive director accepts a donation from MCCU Branch Manager Nicole Thomas.
… Marshall Community CU presented SAFE Place with a check for $250. The funds were raised by MCCU staff members through "dress down days" held each Friday during the month of August. SAFE Place, located in Battle Creek, provides temporary shelter, support counseling, crisis intervention services, counseling, advocacy and public education at no cost to victims of domestic violence in Barry, Eaton and Calhoun counties."MCCU is committed to making a difference in the communities we serve," Branch Manager Nicole Thomas said. Our employees do a phenomenal job with community involvement and this was no exception."

… In celebration of MSUFCU's 75th Anniversary, the credit union is sponsoring three special promotions all year for members. Members who finance or refinance an auto loan with MSUFCU from now until Nov. 30 are entered to win a $75 gas gift card and the grand prize of $575. Seventy-five members will be randomly selected to win the gas gift cards, and one member will be randomly selected to win the grand prize of $575. Also, until Friday, Nov. 9, MSUFCU will be highlighting information about the credit union from the 1990s and 2000s. MSUFCU members can enter the 75th anniversary online video quiz for their chance to win an MSUFCU prize pack, which includes MSUFCU gifts and a $200 gift card to Wheat Jewelers. Members who receive 100% on the quiz are also entered into the grand prize drawing of a $7,500 gift card to Wheat Jewelers. The grand prize winner will be randomly selected and announced at MSUFCU's 75th anniversary party on Wednesday, Nov. 14, at MSUFCU's headquarters in East Lansing.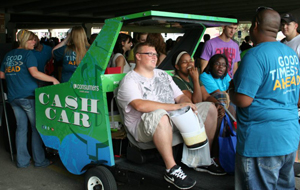 Visitors participate in Consumers CU's Cash Car promotion.
… The Consumers CU Cash Car made numerous stops in Kalamazoo and throughout West Michigan during the summer. Visitors to the Cash Car won cash and prizes by answering fun financial trivia. All visitors will be registered to win an iPad, with a drawing at the end of the year. Up to $500 will be awarded per visit at various sites by Rob, Consumers' very own cash cabbie. Those who "enter" the Cash Car can individually win up to $50. Anyone attending the event or Cash Car location can register to win an iPad.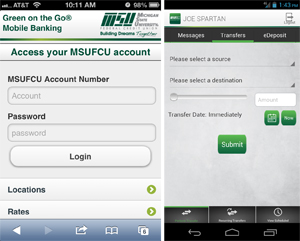 … MSUFCU expanded its electronic services with the launch of MSUFCU Mobile, an application for iPhones and Android phones, now available in the Apple iTunes App Store and Google Play. Using the new app, MSUFCU members may perform a variety of transactions on their accounts, deposit checks via eDeposit for Mobile, locate ATMs, view current rates and correspond with MSUFCU staff. MSUFCU members also now have access to an updated Green on the Go® mobile-optimized website, available by visiting www.msufcu.org on any mobile device. "We are always striving to find new ways to better serve our members at MSUFCU and are thrilled to expand and improve our electronic services with our new mobile app and updated mobile website, both of which were created in-house," April Clobes, MSUFCU's executive vice president and COO said. "With 20% of MSUFCU members living outside the state of Michigan, these mobile services provide additional, convenient ways for members to manage their accounts no matter where they're located. Many of our members already utilize MSUFCU's electronic resources on a regular basis, so we anticipate these new services being very popular with our membership."

… Just eight years ago, Michigan Business Connection opened its doors as a business-lending CUSO. Skip forward to 2012 and MBC announced it has reached $250 million in its servicing portfolio. "I am very proud of our progress to date and want to thank all of our partners and staff who have enabled us to reach this important milestone," MBC President Bill Beardsley said. "Credit unions have become effective and relevant business lenders. To have accomplished this success in the recent Michigan environment and with the excellent portfolio performance we have achieved is simply outstanding." MBC's commitment to the Michigan business economy is demonstrated through dozens of success stories, whether it's by providing a SBA business loan to acquire the local funeral home in Marcellus, financing a new apartment project with commercial space in Auburn Hills or funding the construction of a new wellness center in Dexter, MBC embodies the true cooperative spirit. MBC's ongoing mission is to energize and enable business lending by credit unions all throughout the State of Michigan and by doing so, help improve the economic health of Michigan. MBC helps Michigan credit unions share the costs and risks of commercial loan program management. With a full-time staff of experts, the CUSO provides traditional credit risk assessment and management services, while also offering customizable front end business development and loan origination support engagements.

credit Union ONE had the largest group of walkers at the Step Out: Walk to Stop Diabetes event at the Detroit Zoo.
… For the second year, Credit Union ONE employees, along with friends and family gave back to the community and participated in the Step Out: Walk to Stop Diabetes event at the Detroit Zoo on Sept. 15. White Credit Union ONE hats could be seen virtually everywhere, as the credit union set a new record with approximately 150 walkers participating this year. The credit union raised more than $4,200 from combined corporate and individual giving. Not only was it a fundraising participation record for Credit Union ONE, but according to a source from the Walk, it was also the largest group participating in the Detroit Walk. According to Swami Seetharaman, senior vice president and chief marketing officer for Credit Union ONE, "The walk was a good opportunity for us to participate in a cause that touches all of us in one way or another. Being able to contribute to an organization such as the American Diabetes Association allows us to support our life-science partners in the community. We were surprised by the number of walkers we had, and are truly proud of the Team." One of many StepOut Walks throughout the country, the Walk held in Detroit had a goal this year of $500,000. With more than 3,000 walkers and volunteers, the group has already raised more than $450,000 with several commitments expected, and is confident it will reach the goal by the end of the campaign. More than 84 cents of each dollar raised goes directly into research and programs to help the more than 25 million people in the USA with diabetes.

… Allegiance Hospice recently had its annual golf outing to raise money for hospice and American 1 CU for the second year was the major gold sponsor of the event, with a $5,000 donation. Overall the event raised more than $25,000 for Allegiance Hospice. There were 36 golf teams, totaling more than 160 players. Allegiance Hospice also facilitated a silent auction, 50/50 raffles, and a skins tournament.

… Marshall Community CU and Education Plus CU both announced that they have once again received Superior 5-Star ratings from Bauer Financial Inc., the nation's leading bank and credit union rating and research firm. A 5-Star rating signifies that MCCU and Education Plus CU are two of the strongest credit unions in the nation. "Consumers have come to depend on Bauer's 5-Star rating system as they navigate through their banking choices," comments Karen L. Dorway, president of the rating firm. "They know to look for the 5-Star logo to ensure that the trust they have in their financial institution is well-placed."
… The CASE CU membership recently elected Jane Olney, Robert V. Crane and Fred Goers to three-year terms on the credit union's nine-member Board of Directors. The election was during the credit union's annual meeting at the Lansing Community College-West Campus in June. Olney has been a CASE Credit Union member since 1971. Olney's credentials include serving on CASE's Credit Committee, Asset and Liability Management Team and Internal Audit Committee. She was employed and held positions at CASE as a loan officer, collection manager, marketing director and retired as a vice president of marketing and human resources in 1999. Her education includes a bachelor's degree from Spring Arbor University; University of Wisconsin CUNA School of Management, Certified Executive Program and Marketing School. In 2000, after retirement from CASE, Olney opened an Edward Jones Investment office as a Financial Advisor in Holt. She retired in 2008 as a limited partner. Robert V. Crane has been a CASE member since 2011. Prior to his election to the board, he served as an associate director. Crane became involved with CASE to share his business background and information technology experience with the board. He hopes to help empower the credit union to leverage electronic commerce channels to provide higher levels of member service resulting in more opportunities for members to embrace CASE Credit Union offerings. Crane is active in the Lansing community and serves on the Capital Area IT Council Membership Committee. He was a 10-year volunteer for the Common Ground Music Festival as a team leader for ushers and security. He is also active in the Men's Ministry of Trinity Church in Lansing. Crane received his bachelor's degree and a master's degree of business administration from Michigan State University. Fred Goers graduated from MSU with a bachelor's degree in mathematics. After graduation, he accepted a teaching and coaching position in Genesee County, where he taught high school math and physics for five years. At the same time that he earned a Master's degree from MSU in curriculum. He was promoted in the same school district to be its first assistant principal and athletic director. Goers was then appointed to be the principal at DeWitt High School, a position he held for 22 years. During his tenure in DeWitt, he earned another master's degree from MSU in educational administration. After his retirement from DeWitt Schools, he worked in the insurance industry, where he earned licenses in auto, property, life and financial planning. In 2010, Fred was elected to the DeWitt Board of Education. He just completed serving as treasurer, and is the board's representative to a $10 million bond steering committee. Fred has been a CASE member since 1997. "CASE is fortunate to have such highly qualified and dedicated individuals volunteering to help steer our credit union in these challenging times," CASE President and CEO Jeffrey Benson said.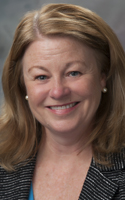 Malone
… Michigan Schools and Government CU has hired Patricia Malone as its vice president of marketing and business development. Malone brings more than 20 years of leadership experience to MSGCU, having most recently served as managing director at Charles Schwab for its retirement plan division. "We are very excited to welcome Pat to the MSGCU team," MSGCU President and CEO Peter Gates said. "She brings a vast amount of experience to the table, having a background in many areas, including brand strategy, integrated marketing communications, business development, marketing planning and research, product development and web marketing and strategy. She will be a valuable asset in moving the credit union forward and expanding our marketing and business development efforts." Malone is currently the president of the Detroit Chapter of the American Marketing Association. Prior to Charles Schwab, she was the director of marketing and business development for the University of Michigan's Ross School of Business and also served as the vice president of marketing and communications for Citizens Republic Bancorp. Malone holds a bachelor's degree in communication and a master's degree in business administration, both from Oakland University.
Submissions to Monitor may be
emailed
. Bryan Laviolette is the editor of Monitor. Contact him
by email
or call (800) 262-6285, ext. 233. The newsletter of the Michigan Credit Union League is published Monday mornings or Tuesday mornings when Monday is a holiday. There is no Monitor the week after Christmas and the week after the Annual Convention and Exposition. The MCUL reserves the right to edit submissions for clarity and space.