Lake Trust Hosts CU Meeting with Bentivolio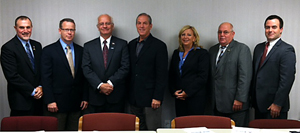 From left are Tony Carnarvon, Co-op Services CU president/CEO; Keith Koppmeier, director corporate responsibility and government relations at Lake Trust CU; candidate Kerry Bentivolio; MCUL & Affiliates CEO David Adams; Patty Campbell, president and CEO of Christian Financial CU; Lon Bone vice president of public relations for Genisys CU, and Kieran Marion, vice president of governmental affairs for MCUL & Affiliates.
On Oct. 4, Lake Trust CU hosted a CU leaders discussion in Plymouth with Kerry Bentivolio, the Republican nominee for the 11th Congressional District.
Bentivolio won the August primary election to replace outgoing Republican U.S. Rep. Thad McCotter, and won a five-way Republican special primary election to serve out the remainder of Rep. McCotter's current term. The special and regular general elections for the seat will be held concurrently on Nov. 6.
MCUL & Affiliates CEO Dave Adams facilitated the discussion, helping educate Bentivolio on several key CU issues, including member business lending, the CU tax exemption, regulatory burden, overdraft fees and ATM fee disclosure reform proposals. Representatives from Lake Trust CU, Christian Financial CU, Genisys CU, and Co-Op Services CU participated in the discussion.
Submissions to Monitor may be
emailed
. Bryan Laviolette is the editor of Monitor. Contact him
by email
or call (800) 262-6285, ext. 233. The newsletter of the Michigan Credit Union League is published Monday mornings or Tuesday mornings when Monday is a holiday. There is no Monitor the week after Christmas and the week after the Annual Convention and Exposition. The MCUL reserves the right to edit submissions for clarity and space.