Final Call to Participate in CU Lunch Local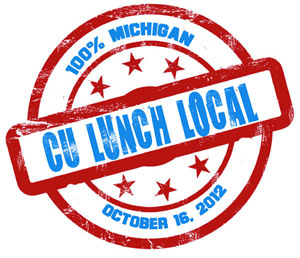 From Sault Ste. Marie to Saginaw, from Battle Creek to Bay City, Michigan credit unions have big plans to show their support for small businesses on Oct. 16 when they take part in CU Lunch Local.
The cash mob-style event spearheaded by Michigan CU Capital has now drawn responses from credit unions and organizations in virtually every corner of the state. It's also a great way to celebrate International Credit Union Week.
It's a simple concept: credit unions just commit to buying local – lunch, dinner, ice cream, or anything else – on Oct. 16, and then spread the word.
With just days to go before the Oct. 10 deadline to participate, the list of credit unions taking part in CU Lunch Local now includes: Lake Trust CU, LOC FCU, West Michigan CU, ELGA CU, Shore to Shore Community FCU, Isabella Community FCU, Monroe County Community FCU, Community Alliance CU, Chiropractic FCU, Northland Area FCU, Catholic FCU, Community Choice CU, Motor City Co-op FCU, Christian Financial CU, Dort FCU, United Financial CU, Onaway Community FCU, Educational Community CU, United Educational CU, Marshall Community CU, Affinity Group CU, Meijer CU, Village Community CU, United Bay CU, Soo Co-op CU, Honor CU, ARC CU, Community West CU, First Community FCU, Parkside CU, E&A CU, Co-op Services CU, Wanigas CU, Sunrise Family CU and hopefully even more to come.
For those credit unions that have already committed to participate, the next step is to publicize your activity. Consider printing the CU Lunch Local logo on stickers for employees to wear, or put it on your business card to leave behind at the local establishment you choose to frequent. It's important that you let the business you're supporting on that day know that this is part of a credit union-driven event.
Make sure you've joined the CU Lunch Local Facebook event, and encourage the business you plan to visit on Oct. 16 to do the same. You can also "like" Michigan CU Capital's Facebook page to stay on top of the latest CU Lunch Local news.
Then, help promote the event through your own social media channels. Take photos, tag your local business and use the hashtag #culunchlocal so that the event will gain momentum and be tracked online.
If you don't have access to a social media account, you can email photos directly to CU Lunch Local coordinator Jessica Richardson-Isenegger at Jessica@in-fusiongroup.com.
Credit unions still interested in signing up for the event should also contact Jessica at the email above with the credit union name, location, and your plans for the day (including the name of the business you'll be supporting) by Wednesday, Oct. 10.
Submissions to Monitor may be
emailed
. Bryan Laviolette is the editor of Monitor. Contact him
by email
or call (800) 262-6285, ext. 233. The newsletter of the Michigan Credit Union League is published Monday mornings or Tuesday mornings when Monday is a holiday. There is no Monitor the week after Christmas and the week after the Annual Convention and Exposition. The MCUL reserves the right to edit submissions for clarity and space.