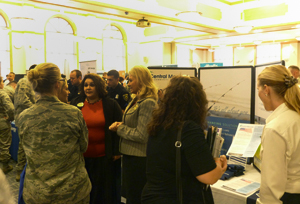 Veterans visit booths at the Hiring Heroes job fair event at Selfridge Air National Guard Base. Central Macomb Community CU was a sponsor of the event.
… Central Macomb Community CU went back to its roots by helping to sponsor a job fair for military veterans at Selfridge Air National Guard Base. CMCCU, which was originally formed as Selfridge Air Force Base CU in 1957 to serve the former Air Force base, was the refreshments sponsor at the "Hiring Heroes" job fair set up specifically for military veterans seeking employment. The credit union also set up a table to talk to potential interviewees for positions at the credit union. "CMCCU started out as a military credit union and we continue to support the military every chance we get and this was another one of those chances," CMCCU CEO Drema Isaac said. The credit union now has a community charter for all of Macomb County. The event was put on by the U.S. Chamber of Commerce and the Macomb County Chamber of Commerce. More than 400 veterans registered for the event.

… Michigan Schools and Government CU won three prestigious awards from MCUL & Affiliates. The credit union was awarded first place for both the 2012 Louise Herring Award and the 2012 Desjardins Youth Financial Education Award, as well as an honorable mention for the 2012 Desjardins Adult Financial Education Award. "Every day, our goal is to live up to the credit union philosophy of 'people helping people,' as well as our own value of helping our members with setting it right," MSGCU President and CEO Peter Gates said. "To be recognized for our efforts with these awards is an honor." The Louise Herring Philosophy-in-Action Member Service Award recognizes efforts to materially improve members' lives through special programs. MSGCU received a first place accolade for its Classroom Funding Initiative, which assists local educators in obtaining funding for their classrooms. This initiative included the creation of two programs: 1) the 0% Classroom Loan is designed to help teachers avoid dipping into their savings for school supplies, and 2) the Classroom Cash Grant Program, which awards grants to educators who want to implement innovative lessons plans in their classrooms. The Desjardins Youth Financial Education Award was established to recognize efforts that support the education of youth about personal finance. It identifies the credit union's involvement in community activities as well as scholastic resources to raise financial literacy awareness. The credit union was honored with a first place for its 2012 efforts, which included hosting free educational seminars, presenting at local schools, holding a high school marketing class contest and offering award-winning youth savings programs for children and teenagers. MSGCU also won an honorable mention in the Desjardins' Adult category for hosting free educational seminars; providing free financial coaching for members; and highlighting the issue of financial illiteracy by offering personal finance instruction for adults at more than 400 site visits at local schools, government offices, businesses and more.

… Consumers CU teaches financial literacy to West Michigan area schools by visiting classrooms and being a financial resource for kids of all ages. Consumers regularly promotes financial literacy within many school districts, including Kalamazoo, Lawton, Coldwater, South Haven and Holland. In the Kalamazoo Public Schools, Consumers visits Woods Lake and Arcadia elementary schools monthly – teaching fifth-grade classes basic information about personal finance and banking. The curriculum includes topics such as what a financial institution is, how to save money, how to manage transaction accounts, basics of managing checking accounts, establishing credit, loans and types of loans and careers within financial institutions. As an "end-of-year" reward to fifth-graders completing the program last school year, Consumers visited the schools' final classes with its own "Cash Car." Students received prizes for correct answers to trivia questions, which were based on curriculum covered during the school year.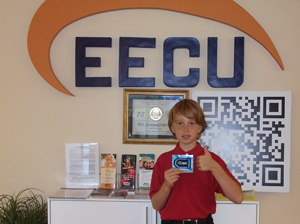 James W. shows off his Johnny Appleseed rewards card.
… EECU continues to celebrate the power of today's youth all year long with three financial education programs geared toward young people ages birth to 24. In an effort to encourage EECU youth members to save money, each of the three programs includes a Rewards Program where members receive a stamp on their Johnny Appleseed, Cha Ching or Edge reward card for every deposit made into their savings account. After six stamps, their card is entered into an annual drawing for a chance to win cash and prizes. There is no limit to the number of cards stamped and placed into the drawing. The winners of their 2012 grand prize drawings are James W., who won the Johnny Appleseed drawing for kids ages 12 and under; Christopher P. winner of the teen youth program, Cha Ching, for ages 13-17, and Kelsea B. who won as a member of The Edge program for young adults ages 18-24. All three youth winners won a $100 Best Buy gift card. According to EECU Financial Education Coordinator Liz Hoffius, "EECU's youth programs are all absolutely FREE and are designed to help educate youth about the importance of saving money and developing good spending habits. They provide the tools necessary to take the first step toward financial independence and properly manage personal finances for a lifetime."

… LOC FCU sponsored the September Stroll: a Taste of Downtown Howell recently. The event was hosted by the Howell Area Chamber of Commerce Ambassadors Committee. Restaurants featured in the event included Cleary's Pub, Diamonds Steak & Seafood, Heart of Michigan, Howell's MainStreet Winery, Moe's BarBar Shop, Mr. B's Rustic Tavern and Uptown Coffeehouse. Each place provided a selection of signature menu items, and several participating locations offered specials on drinks and other items for the event.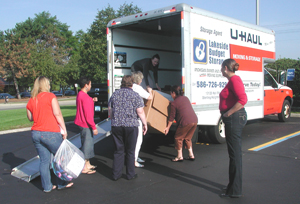 Metro East Chapter volunteers load a truck with school supply donations for the Macomb County Department of Human Services.
… Thousands of pencils, hundreds of notebooks and dozens of backpacks … that's just a fraction of the school supplies recently collected by the Metro East Chapter. Just in time for students to return to school, the chapter's charity committee worked with local credit unions to collect cash and in-kind donations for the Macomb County Department of Human Services, which strives to equip hundreds of children in low-income or foster homes with much-needed school supplies. "School supplies can be costly for families that are struggling to keep food on the table and a roof over their heads," DHS Community Resource Coordinator Karen Urquhart said. "The donations received from our local credit unions, combined with other generous community contributions, have made a significant difference in the lives of the many children we serve." Volunteers sorted donations and shopped for supplies with cash donations. The result was an overwhelming amount of donations that required the use of a moving truck, which was donated by Lakeside Budget Storage of Sterling Heights. The chapter contributed an additional cash donation of nearly $800. "It was the first time we've ever received donations in a moving truck," said Urquhart, who required the help of nearly a dozen workers to help unload the donations. The Macomb County DHS distributed more than 525 backpacks in less than 1½ days to local children in need, which were packed with various school supplies based on grade level. "We're very proud of our employees and members," said Crystal Gracz, chairwoman of the chapter's charity committee. "Each day we strive to live by our 'people helping people' philosophy, and the efforts of our donors and volunteers go to show that, with this mindset, you can accomplish amazing things."

Supporting Future Farmers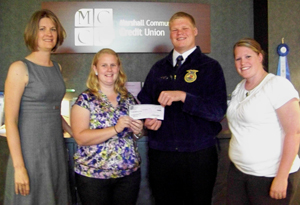 Marshall Community CU CEO Heather Luciani, left, and Andrea Tucker, MCCU financial education coordinator, right, present a $500 check to Amanda Shreve, president of the FFA Alumni, and Madison Hautau, President of the Marshall FFA. The money will go toward a $45,000 greenhouse that the Marshall Future Farmers of America's Greenhouse Committee plans to build at Marshall High School.

… Educational Community CU sponsored WKFR's Backpack Give Back, a drive to collect school supplies for children in Southwest Michigan who otherwise wouldn't have had what they needed to start the school year. Through donation boxes placed at each branch, ECCU collected hundreds of supplies which were distributed through Big Brothers Big Sisters, A Community of Caring. The school supplies collected by ECCU and other local businesses were given to the kids, known as "Littles," who participate in the Big Brothers Big Sisters Program. Deb Buchholtz, Big Brothers Big Sisters executive director said: "The Littles each received a backpack appropriate for their age and gender along with just about every school supply needed. Folders, notebooks, binders, pencils, pens, markers, paper… the list is very long. If the kids needed something, chances are it was in that backpack." Buchholtz added. ECCU President and CEO Charles Cornelius said: "I'd like to extend a big thank you to the generous ECCU staff and membership who contributed to this year's school supplies drive. Their participation and contributions definitely exemplify the credit union philosophy of people helping people, as well as helping to continue our ongoing support of the educational community."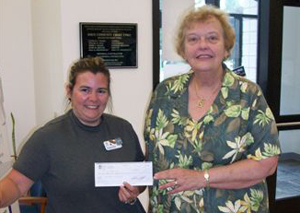 Tawas Branch Manager Jennifer Jackson presents a check to June Purcey of Iosco County Coats for Kids.
... Through the hard work of its employees and the generosity of its membership, Alpena Alcona Area CU raised $224 for the Iosco County Coats for Kids program. Iosco County Coats for Kids accepts donations of new and gently used coats, boots, hats, gloves, and other winter apparel for children in Iosco County. This volunteer run program then distributes the winter apparel through the school system to those children in need. The Coats for Kids program also keeps an inventory of cold weather apparel at local shelters, schools, and nurseries. The proceeds from a bake sale hosted by AAACU were given to Coats for Kids to help purchase apparel for the winter months. Profits from candy bar sales, employee dress down days, and monetary donations went directly to this charity. The credit union also sponsored a summer grill package raffle where members were able to purchase tickets for a cooler filled with snacks, smores and a grocery gift certificate. The Tawas Branch also placed drop off boxes in its lobby where members could bring in donations.

… Great Lakes First FCU in Escanaba has once again received a Superior 5-Star rating from BauerFinancial, the nation's leading bank and credit union rating and research firm. A 5-Star rating signifies that Great Lakes First FCU is one of the strongest credit unions in the nation. "Consumers have come to depend on Bauer's 5-Star rating system as they navigate through their banking choices," Karen L. Dorway, president of the rating firm, said. "They know to look for the 5-Star logo to ensure that the trust they have in their financial institution is well-placed. Under the leadership of Mr. Wayne R. Johnson, president, the dedicated team at Great Lakes First FCU has earned that trust and respect." To earn this Superior 5-Star rating, Great Lakes First Federal Credit Union excels in areas of capital, asset quality, profitability and much more. What's more, Great Lakes First Federal Credit Union has earned this highest rating for the latest 32 consecutive quarters.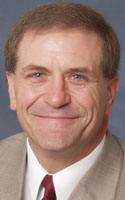 Beyerlein
… David Beyerlein has been appointed to the Board of Directors at Catholic FCU. Beyerlein is a CPA and Principal at Yeo & Yeo in Saginaw, where he specializes in tax planning and preparation, business consulting services, estate retirement and financial planning. He has more than 35 years of taxation experience. He holds a bachelor's degree in business administration from Central Michigan University and masters of business administration from the University of Michigan.

Submissions to Monitor may be
emailed
. Bryan Laviolette is the editor of Monitor. Contact him
by email
or call (800) 262-6285, ext. 233. The newsletter of the Michigan Credit Union League is published Monday mornings or Tuesday mornings when Monday is a holiday. There is no Monitor the week after Christmas and the week after the Annual Convention and Exposition. The MCUL reserves the right to edit submissions for clarity and space.