… The CU Collection Consortium was founded in 1994 as the Southeastern Michigan Collection Managers Consortium. The group has evolved over the years and runs a series of educational meetings generally on the 2nd Wednesday of every month from October through May. The final meeting in May is a one-day collector training school run in cooperation with MCUL & Affiliates' Education Department. The consortium is excited about the caliber of speakers this year and strong attendance is anticipated. To get on our listserv for meeting notifications, email Peggy Dombrowski at PDombrowski@genisyscu.org. Board members are Ken Kollar (president), Peggy Dombrowski, Julie Hoff and Jim St. Aubin. The first meeting of the season will be Oct. 10 from 2 p.m. until 4 p.m. at Co-op Services CU, 29550 Five Mile Road in Livonia. The topic will be "Check and ID Theft" presented by Diane Khezarjian of Community Financial CU. For directions or additional information, contact the meeting host Julie Hoff at (734) 522-3700, ext. 115. The group is run by volunteers and the meetings are free with the exception of the collector training school. Meetings are open to any collections, lending, loss prevention or branch credit union professionals. No reservations are necessary. Click here to see the schedule for the entire season.

... Documenting & Disciplining Employees will be the topic of an Oct. 17 audio session taking place from 11 a.m. to noon (ET). Although employers cannot prevent employees from filing lawsuits, they can ensure a defensible case if discipline is administered in an evenhanded manner, which will be covered during the session. The audio event is just $129 per connection. To learn more or register, click here.

... Look ahead to next year and begin noting the dates of important events, such as the MCUL & Affiliates 2013 Annual Convention and Exposition, taking place May 16-18. Start budgeting and planning for staff development, with this convenient worksheet that details more 2013 event training dates.

... MCUL & Affiliates is building the 2013 training lineup and is ready to hear your suggestions for professional development topics you would like offered next year. Let us know your needs by sending an email to Renee.Werth@mcul.org and make MCUL & Affiliates your first choice for training.

... Looking for the inside scoop on MCUL & Affiliates training topics, upcoming event deadline dates and registration reminders? Find all of this plus much more by following MCUL & Affiliates Education on Facebook here.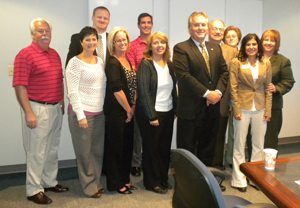 Senate banking Vice Chairman Mike Nofs, R-Battle Creek, stands with members of the Jackson Chapter.
… The Jackson Chapter hosted a legislative breakfast on Sept. 24 at the CP FCU in Jackson. The event featured state Senate Banking Vice Chairman Mike Nofs, R-Battle Creek, and was attended by 14 credit union people. Topics of discussion included reforms to the 90-day foreclosure workout period, financial elder abuse, allowing copies of original instruments including electronic copies, blight violation legislation and the six ballot proposals. Legislative breakfasts are a great way to build relationships with your lawmakers and educate them on the issues important to credit unions.
Submissions to Monitor may be
emailed
. Bryan Laviolette is the editor of Monitor. Contact him
by email
or call (800) 262-6285, ext. 233. The newsletter of the Michigan Credit Union League is published Monday mornings or Tuesday mornings when Monday is a holiday. There is no Monitor the week after Christmas and the week after the Annual Convention and Exposition. The MCUL reserves the right to edit submissions for clarity and space.