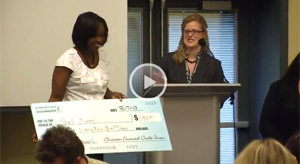 Recently, dozens of people took part in CU@Soup, an event coordinated and hosted by Christian Financial CU in which attendees got to decide which budding small business would take home the proceeds of the event and a Michigan Credit Union Foundation grant.
But if you weren't able to attend, you can still catch up on all the action. A short video recap of the event is now available on CUBE TV and can be viewed by clicking here.
In the video, find out which of three business pitches won over the crowd to take home the prize, and hear about the winner's plans for the future. You'll also learn more about the event, made possible through a Community Reinvestment Initiative grant awarded to Christian Financial by the MCUF. That support, in turn, made it possible for Christian Financial CU to support a small business in its community.
The MCUF's CRI Grants are available to support credit union and chapter community outreach activities. For more information, click here to visit the MCUF website.
Submissions to Monitor may be
emailed
. Bryan Laviolette is the editor of Monitor. Contact him
by email
or call (800) 262-6285, ext. 233. The newsletter of the Michigan Credit Union League is published Monday mornings or Tuesday mornings when Monday is a holiday. There is no Monitor the week after Christmas and the week after the Annual Convention and Exposition. The MCUL reserves the right to edit submissions for clarity and space.